Our WORKS-Our ADVERTISEMENT!
A long-term of experience allows us to develop the objects of different complexity, using materials of a high quality from the world leaders in this field like SCHUCO and ETEM!
Structural Facade Glazing in Moldova.
Structural Facades – one of the most difficult design solutions. They help to approach a sense of integrity and lightness of a building, the unique of which is in the following; they are glued to the base plate glass panels in different versions of execution (monoglass, multiple glass units, emalit, glassstadur and others).
Supporting aluminium structure frame consists of horizontal transoms and vertical racks, which can be visible from the inner side of a building only. The main feature of such type of glazing is the using of silicone structural sealant, which passes through the obligatory pre-testing. Such type of sealant makes the construction sealed and protects the elements of the facade of a building from mechanical and atmospheric impact. With proper design and quality installation, structural glazing, based on silicone sealant, can resist to a seismic shift, pressure, chipping, traction force, immersions, temperature changes, wind loads and many other impacts.
With structural glazing facade of a building remains smooth, without slots and gaps, doesn't clogged with dust and dirt, what makes the structural glazing very simple and practical during the maintenance process.
Besides aesthetic superiority, structural facade has also an important technical advantage – an impact of an aggressive environment on the structure is minimal. This happens because glass and sealant comes into contact with the aggressive environment only, which has a minimal environment damaging effects.
Beautiful façade- is an important element of success and is a visiting card of your business!
"IMTC-Constructie" SRL offers facade glazing SCHUCO and ETEM for the offices, trade centers, banks, elite residential buildings.
Standard Mullion-transom system in MOLDOVA
The base for façade glazing is the traditional mullion-transom profile system, which gives not only the unlimited freedom for creation of designers and architects, but also helps to create beautiful and strong constructions. As a supporting structure standard set of the vertical-mullion and horizontal-transom aluminium profiles are used, to which the glass is fixed. This structure can be placed both vertically and under the certain angle.
Vertical mullions look like box-shaped profile with drainage channels and landing sit for glazing's gaskets. The depth of horizontal transoms helps to place its inner side in the same flat with the inner mullion side or helps to move it back. Press plates are fixed to the basic structure through threaded hole with the help of stainless still screws. This guarantees the glass fixing and/or filing panels. After this, the aluminium decorative covers are snapping on the press plates. The press plate's width and the width of decorative covers from outside is 50 mm.
The mullion-transom system glazing advantages:

• Simplicity in installation
• Relatively low price of construction
• The system is designed for vertical and inclined facades
If it is necessary to make the opening in the façade, it will be possible to install in this façade different types of doors and windows. Thermo insulation principle is saving in the whole construction.
Horizontal and inclined glazing is necessary to perform using triplex, tempered glass or saving tape on inner side of multiple glass units. All constructions should be pre-calculated on hardness and strength.
Façade glazing - is a hard technological process, which can be trusted to the professionals only!
"IMTC-Constructie" SRL offers the modern system of the façade glazing of different configurations.
Offer to your attention:
PANORAMIC or FRAMELESS facade glazing in MOLDOVA
Frameless façade glazing is very popular now and looks wonderful in modern hi-tech style. The stylish frameless façade glazing technology helps to create "clear", maximum holistic façade surface without visual graphic "grid". Panoramic glazing, beside wonderful view, helps to fill the placement with the light and helps to underline all the interior advantages.
Frameless facade glazing fields of using:
Residential complexes construction, offices, restaurants and cafés, terraces, penthouses, greenhouses and winter gardens, fitness clubs and trade centers.
Panoramic glazing advantages:
Daylight and sound insulation. While using façade glazing the sunlight stream, that enters the placement, achieves the maximum possible value. The modern frameless systems dissipate ultraviolet rays and restrains outdoor noise without extra resonance.
Frameless glazing helps to make the façade looks like organic whole. The main feature of frameless façade is the absence of any visual fixing elements from outside of a building. Translucent part may have decorative or purely functional purpose.
Frameless glazing is a wonderful show-window. The unlimited view and transparency can represent the goods in the most favorable way.
Panoramic glazing underlines the exclusivity, prestigiousness of a designed object, visually increases the space of a placement.
Frameless glazing systems are suitable for year-round using for many years. They are safe and easy in service.
Frameless façade offers a number of advantages for private interior too. It corresponds to the façade aesthetics of a modern house-building. The absence of frame constructions gives panoramic view, free light penetration and sound insulation.
The entire surface is being created from extra strong glass, with the thickness of 6,8 and 10 mm. The glasses are placed at one line, closer to each other with a low technological gap, what gives a so called "flexibility" to the facade.
Types of glass, which are used for panoramic glazing and which have extra strength:
tempered glass;
triplex-glass;
glass, covered with a special film
For panoramic glazing, tempered glass will suit best of all. Tempered glass - is a flat glass which goes through a special thermal processing, as a result of which the glass obtains the improved qualities. The common advantages are in its mechanical strength (it is stronger than usual glass in) and safety in operation. This glass can't be destroyed by accidental hit, has a very high heat resistance and doesn't loose its optical features. In case of destroying the glass is splitting on very small safe fractions.
Triplex consists of two or more glasses, which are glued between each other with a help of a special film. The glasses that are used for triplex manufacturing can be also tempered.
Such type of glasses are also safe, but are used, in case if it is a necessity, even after destroying, to perform for a short period of time the function of fencing (railing, show-window and other). Even if such type of glass will be destroyed, the odds and ends will hung on a film.
Also there is a possibility to use sheet glass, which is preliminary covered with an armored film.
Thanks to the original architectural solutions for facade glazing – You will receive the modern exterior design of a building.

Semi-structural facades respectively occupy intermediate link in the facade glazing systems. They absorbed in it the constructive solutions of standard and architectural refinements of structural facades.
Semi-structural facade glazing system – this is a construction, in which, with the help of using the special glass fixing system to the racks and transoms, from exterior side we receive the homogeneous picture of a smooth glass wall, divided structure of vertical and horizontal seams with 2 mm width. Seams between glass sheets are filled with a special silicon sealant or with a special shaped rubber, which ensures a high impermeability of construction and improves the insulation quality.
During the production process of the facade constructions our company uses the products of the world leaders in aluminium systems such as: Schuсo, ETEM.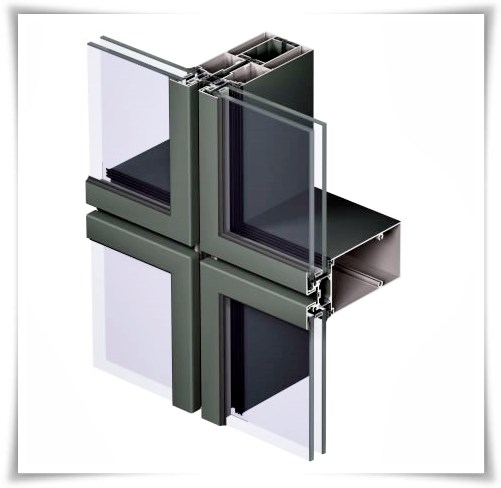 The rich spectrum of colour and a wide range of exterior decorative covers and systems are able to satisfy the most demanding customer and are able to create the unique look of translucent facade. The main feature of this facade is the presence of a multiple glass unit's mechanical fixing with the help of special press plate, which is hardly seen on a surface and imitates the glazing, what gives an opportunity to use the usual multiple glass units. This opportunity significantly reduces the price for the multiple glass units. Moreover, with the help of semi-structural glazing there is such a possibility as to install outside opening hidden leaves – this is one more feature, which has a semi-structural aluminium facade system.
The opening of a window happens exclusively by the upper horizontal axis outside!
This system has perfect operational quality. Semi-structural system beside the aesthetics of the facade helps to receive the good thermo-insulation options, which due to the world wide trend, aimed at reducing the energy consumption of a building, is the one of the main criteria for evaluating the modern exterior walls.
"IMTC-Constructie" SRL takes into account the modern trends in design and projection solutions, and offers a great choice of systems, with the help of which it is possible to perform a qualitative and modern glazing of different buildings, taking into account the customer requirements!
We offer to your attention the latest development in the field of glazing:
SPIDER or PLANAR facade glazing in MOLDOVA
Spider glass (planar) system glazing – a modern way of glazing facades. "Spider Glass" technology helps to create all-glass architectural constructions. This type of glazing is based on point hitch of translucent elements, which helps to create the completely smooth mirror surfaces with an invisible rack.
Spider – is a solid bracket made of high-alloy steel with very good decorative features. With the help of such fixing it is possible to create any different ceiling and façade constructions. The loading, acting on spider, is perceived by it evenly in the whole fixing points due to the "elastic structures" of fixing points. Glass temperature expansion is compensated by point clip. Spiders are fixed to the carrying construction by special fixing elements through the holes (or without holes).
Translucent element. Wide application here has a single tempered glass or multiple glass units made of tempered glass. Spider system glazing technology gives an opportunity for the architects and designers to realize the most interesting and unusual conceptions on façade glazing.
The field of using "SPIDER GLASS" can be different: trade centers glazing, offices, supermarkets, auto shows, banks, winter gardens, glass canopies and roofs and so on..

"Spider Glass" Facades characterized by a high strength and durability, because:
- glazing is held on sections by tempered single glass or multiple glass units, and in case of reparation, there is a possibility to substitute a defective unit, without disturbing the rest part of the construction;
- metal and glass is used in outdoor construction - the materials which are the most resistant to wear out;
- the joints between glass sections are filled by special sealant, what gives a waterproof, heat resistance and durability to the construction.
The Basic elements of spider glass facade:
• Carrying construction
• hinge pins
• Spider brackets
• Hardness edge
• Glass panels
Spider fixings are made of stainless steel. They can be produced of different types and sizes, and are chosen from the results of technical calculations and architectural solution. Spider Glass System glazing feature is – frameless performance on a whole glazing surface. In Spider Glass Glazing is possible to place the all-glass entrance groups in one construction plane.
Spider Glass Systems advantages:
• Maximum transparency;
• The possibility of glass joining in many planes simultaneously;
• Weightless, elegant, modern view;
• The minimum quantity of carrying constructions;
• Durability;
• The great resistance to weather conditions;
• Safety glazing;
• Low enough expenses for exterior view supporting;
• While using "spider" fitting, the plane occupied by glass or multiple glass units is very high, and allows using the sun energy at maximum level for lighting and heating of the placement.
The technological development gives the possibility to change a view of an architectural building from bulky to light, transparent constructions.
Spider Glass Glazing relates namely to such technologies, it allows to use glass potential as constructional material on maximum level.
"IMTC-Constructie" SRL has an experience in implementation of Spider systems façade glazing projects and is ready to provide you with its services on creating the modern and creative glazing facade projects.