Thanks to the original architectural solutions for facade glazing – You will receive the modern exterior design of a building.

Semi-structural facades respectively occupy intermediate link in the facade glazing systems. They absorbed in it the constructive solutions of standard and architectural refinements of structural facades.
Semi-structural facade glazing system – this is a construction, in which, with the help of using the special glass fixing system to the racks and transoms, from exterior side we receive the homogeneous picture of a smooth glass wall, divided structure of vertical and horizontal seams with 2 mm width. Seams between glass sheets are filled with a special silicon sealant or with a special shaped rubber, which ensures a high impermeability of construction and improves the insulation quality.
During the production process of the facade constructions our company uses the products of the world leaders in aluminium systems such as: Schuсo, ETEM.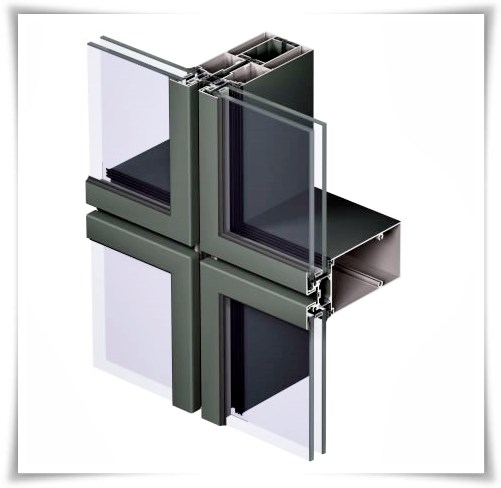 The rich spectrum of colour and a wide range of exterior decorative covers and systems are able to satisfy the most demanding customer and are able to create the unique look of translucent facade. The main feature of this facade is the presence of a multiple glass unit's mechanical fixing with the help of special press plate, which is hardly seen on a surface and imitates the glazing, what gives an opportunity to use the usual multiple glass units. This opportunity significantly reduces the price for the multiple glass units. Moreover, with the help of semi-structural glazing there is such a possibility as to install outside opening hidden leaves – this is one more feature, which has a semi-structural aluminium facade system.
The opening of a window happens exclusively by the upper horizontal axis outside!
This system has perfect operational quality. Semi-structural system beside the aesthetics of the facade helps to receive the good thermo-insulation options, which due to the world wide trend, aimed at reducing the energy consumption of a building, is the one of the main criteria for evaluating the modern exterior walls.