Glass fencing
Do you want to enlarge the space, to give the elegancy and lightness to the placement? All-glass parapets – are the best variant. The glass stairs and parapets – are the important part in the modern interior. They give originality to the interior. Such type of fencing – is safety and durable, can hold big weight. The construction can be installed very easy and fast. This construction doesn't require the special rules of operation.
"IMTC-Constructie" SRL produces the glass fencing from tempered glass. This glass is resistant to temperature changes. The tempered glass is not dangerous for people and increases the glass durability. The durability of the tempered glass on curves and hits is in 5-7 times higher than the durability of usual glass. The recommended thickness – 10 mm. the glass can be transparent, tilted, frosted, and with patterns.
Glass fencing is used both for interior and exterior design. The glass fencing is actual for stairs decorating, terraces, balconies, balustrades, sight areas.
The glass fencing for stairs performs protective and decorative functions. Thanks to a wide range of the glass it is possible to pick up the required formats for different interiors. The glass constructions help to realize any different ideas.
The glass fencing has the following bright features:
- spectacular look
- a wide range of forms and cladding
- lightness, pliability and durability of construction
- easy operation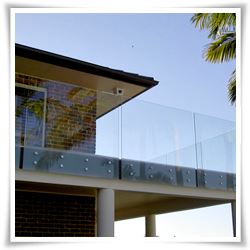 "IMTC-Constructie" SRL will provide you with a full range of services. Also you can order the glass fencing, made by individual designed drawings.